Purchase a Photograph
If you would like to purchase a photograph from Roger Bennett, you can:
1) Call me to make an appointment to view my work at a location agreeable to you and myself. You can then place an order at that time for later pick up or mailing.
2) Send me an email at rohanben@cox.net with the name of the image(s) you would like and I will email you the sizes available and the current pricing (if different from the prices below) for the desired images. Use the "Contact the Artist" button to send me the email.
Square Invoices
I am using the Square Invoice payment system for on-line payments. This is how this works:
After you e-mail me the image(s) you would like to purchase (noted in the message box of the "Contact the Artist" page) I will send you an invoice using Square for the item(s) chosen. You will not be charged a fee to pay the invoice.
To pay a Square Invoice, begin by clicking Pay invoice in the invoice notification email.
You will need the following information:
- Name on the credit/debit card being used
- Expiration month and year
Contact Me
If you have any questions about the items listed, amount owed, or would like to request a refund, reply from your invoice email to contact me.
The invoice will contain my email and phone number. Click Pay invoice to open invoice details, and scroll to the bottom of the page to find my contact information.
Once I receive the invoice payment notification from Square I will send you the items purchased. This usually takes 1-3 days.
Prints are mounted on 4 Ply archival mat board and over-matted with 4 Ply archival mat board. Images are printed on archival quality smooth, luster, or mat (mat for duotone and photo-impressionistic prints) finish papers. Inks used are pigmented (not dye based) and have been tested to last without fading for at least 75 years.
Current print prices are shown below.
These prices may change without notice (any changes will be notified at time of order).
Approximate Image Size, Inches Mat Size, Inches Price, USD
11 X 14 16 X 20 $175.00
12 X 18 18 X 24 $225.00
16 X 20 22 X 28 595.00
18 X 24 24 X 30 $725.00
22 X 28 30 X 36 $995.00
Framing only for pickup purchases. Framing prices quoted upon request.
Shipping and insurance are additional upon request.
Certificate of Authenticity
With each image purchased I provide a Certificate of Authenticity that states the materials used to make the print, the name of the image, the edition number, the size of the image, and when it was printed. I also provide the following information on the certificate:
"This certifies that this is an authentic print made from an original photographic image captured and printed by the artist using the medium designated on this certificate. The finest materials have been used to insure the lasting beauty of this image and to protect your investment in fine art. To properly care for your print, protect it from strong ultraviolet radiation such as direct sunlight. All copyrights are reserved to the artist. Reproductions of this image may not be made without permission."
The Certificate looks like this: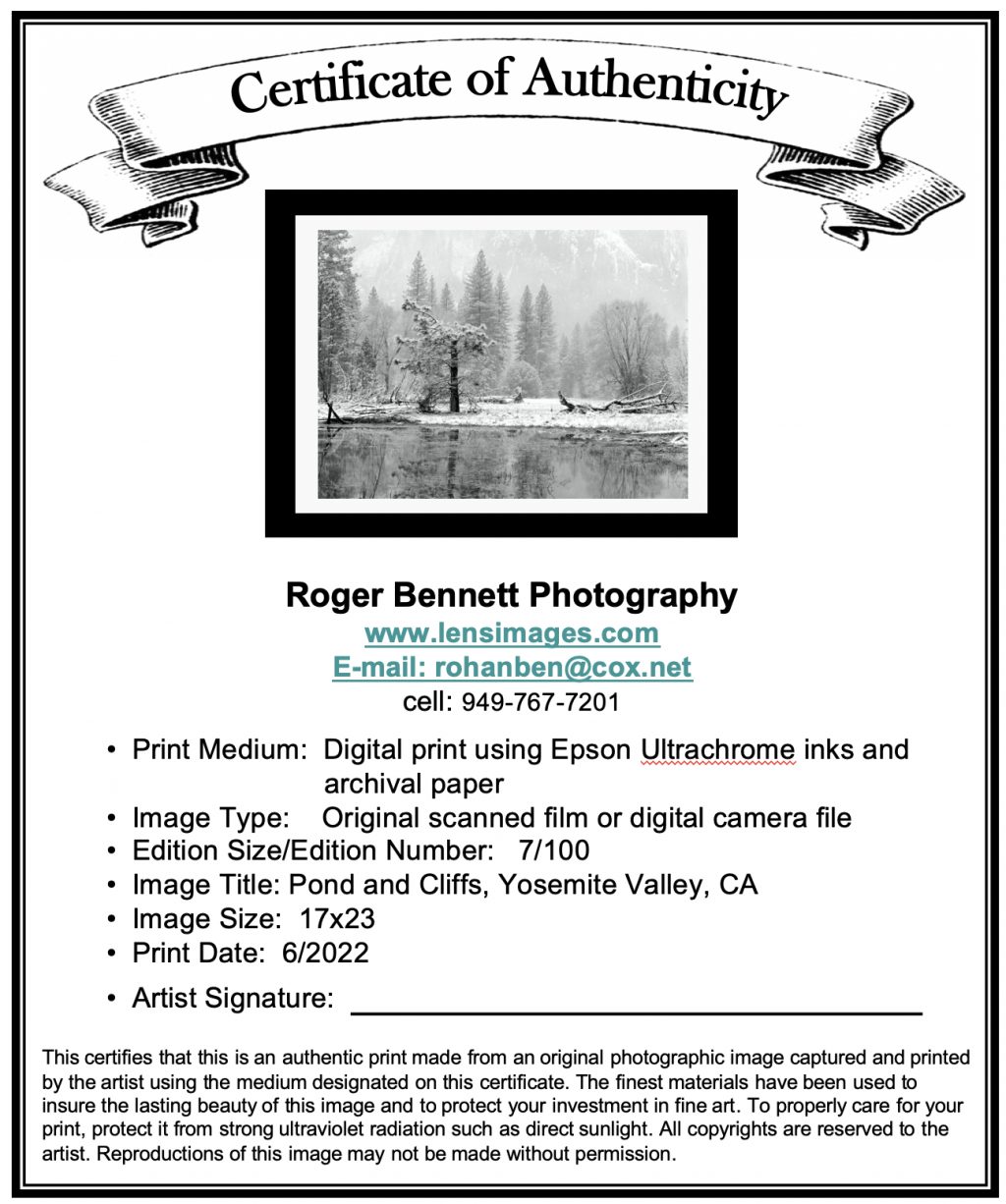 Security
Paying an invoice with Square is secure. Square monitors and encrypts all transactions and tokenizes data once it reaches their servers. They track the purchase as it goes through the Square software. Square prohibits the storage of card numbers on their devices.
Invoices can be paid with any major credit card or debit card from the secure payment link (similar to Paypal).
When you receive the invoice make sure it is for the item(s) you want to purchase, and the price(s) for each item are as agreed upon. Applicable tax (8% for California purchases), and required shipping costs will be added in the invoice if necessary.